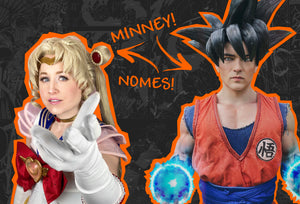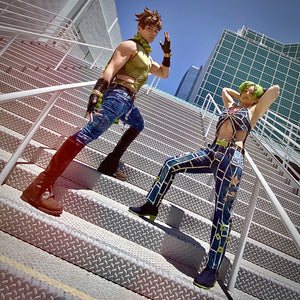 Be More Shonen is a professional cosplay duo from the United Kingdom made up of Minney and Nomes!
Positivity and hard work have earned them a name within the cosplay community. They have collaborated with big brands (Ubisoft, Criminal Damage, and Marugame). They have appeared on media outlets including the BBC, GameSpot, and comicbook.com.

Be More Shonen run live panels and demos to packed out rooms at high profile events around the world (eg. London MCM Expo, Anime Expo, CosXpo). They are experienced cosplay contest judges from local to international level.
Minney and Nomes have achieved many awards in the world of competitive cosplay!
They first won a prize together at Katsucon 2016 in the United States. That was only the beginning.

In 2021 they made history as the first UK team to win a top 3 podium placing at Japan's World Cosplay Summit.

In 2022, they did it again. They hit first place at the world renowned Clara Cows Cosplay Cup in the Netherlands.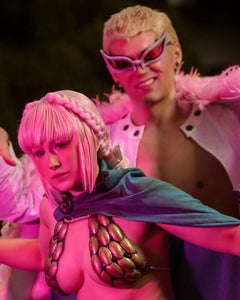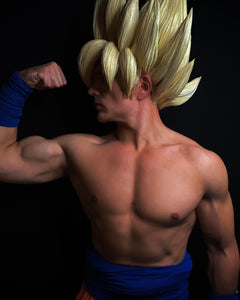 Minney creates content focused on fitness and mindset!
Powered by anime and cosplay he overcame addiction. Over the last decade he has sculpted his physical and mental well-being.

He is now a competitive athlete and cosplayer. He helps people reach their fitness goals with training programs and online coaching.

With his training programs he aims to inspire one million people to improve their health.

For more information about Minney's coaching and training options, please click here!
Nomes is the chief costume maker of Be More Shonen!
She crafts high-quality costumes and is particularly recognised for her gravity-defying Saiyan wigs. She left a career in medical communications to pursue her passion for cosplay.

Over the last ten years Nomes has represented the UK on many occasions. She cut her teeth at the European Cosplay Gathering and Cosplay World Masters. Now teamed up with Minney, she has won top 3 at both World Cosplay Summit and Clara Cow's Cosplay Cup.

Nomes is always hungry for fresh techniques. She has acquired a huge skill set with award-winning costumes. Now she loves to share that knowledge with her followers.

She also offers wig commissions for those looking for a quality cosplay hairstyle. To receive notifications about wig commissions, click here!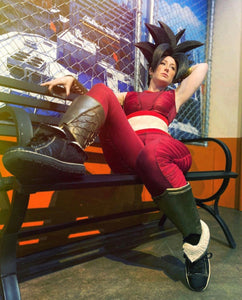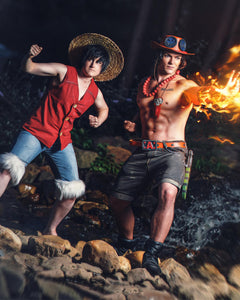 Nomes and Minney keep the PLAY of cosplay at the forefront of their social media content!
Not only do they strive for quality costumes, they also stack their skit work with heart. Be it video or stage they seek novel ways to entertain with high-octane performances.

Be More Shonen have collborated with many brands. Restaurants, games, conventions, fashion and even supplements. They all differ, but they represent the Be More Shonen attitude. Be More Shonen are always open to fresh collaborative opportunities.

To discuss collaborations with Be More Shonen, please click here!