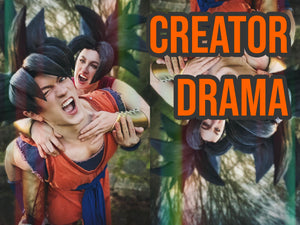 A SERIES OF CREATOR DRAMAS
It's one of the least useful and toxic things a person can engage in.
Recently there's been tons of it in the creator world. E-girls stabbing each other in the back. Mr.Beast getting scrutinised for curing 1,000 people's blindness. Anime YouTubers exposed for being manipulative psychopaths.
This isn't about who is right and wrong or my personal thoughts on it. Each story tells tales of an utter lack of empathy and an unwillingness for compassion. A desire to see the worst in people and to do the worst to people.
Me and Nomes have both been very lucky to live a drama free existence in the cosplay community for the most part. Regardless, I started reflecting on it and what I'd like to see.
I'd like to see people leading with compassion over judgement. To see people improving themselves instead of tearing down others.
If we all put our egos aside and aimed to improve ourselves. If we tried to understand each other first and put our opinion second. We'd be in a much better place as a society.
Actions speak louder than words, we will act
accordingly
🫡
Positivity, kindness, and optimism will save the world


BE MORE SHONEN
Cosplays: Goku and Kefla
Series: DragonBall Super
---