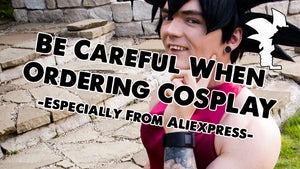 Be careful when ordering cosplay from Aliexpress (2017)
We all make mistakes, some are more hilarious than others. Keeping the store anonymous as they were incredibly helpful after the fact I once ordered a pair of Goku's RoF boots from Aliexpress and instead I got a prom dress.


How did I look?

I sent that photo alongside my order details to the shop owner who was incredibly apologetic and they let me keep the dress and sent me another pair of boots. I didn't mind, but this slight delay meant I couldn't cosplay the version of Goku I wanted at that con. My advice to those ordering their cosplays online is to leave a bit of breathing room for the mess ups that may happen, otherwise you might be wearing something else to the con ;)

This dress is super flattering to my arms tho
It shapes the arms nicely but what you can't see is the back of the dress where it won't zip up over my wide back! 
---