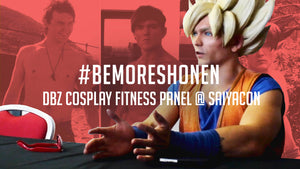 BE MORE SHONEN - DBZ Cosplay Fitness Saiyacon 2019 Panel
Saiyacon 2019 in Milton Keynes UK was a fantastic experience, it was a pleasure being a guest judge alongside my partner Nomes Cosplay and to be named as Saiyacon's official Goku. I Can't thank the higher-ups enough for the opportunity!

I feel like I met a lot of new and amazing friends with memories that I'll treasure forever, amongst those memories was delivering my panel "BEMORESHONEN".

This is the 8th time I've ever delivered a panel and when I think back to my first ever panel at Kitacon '14 it's a night and day difference which I'm pretty proud of. Public speaking doesn't come naturally to me so to make something even half coherent is a very worthy goal haha.

To everyone who saw this live thank you very much. For the rest of you, thanks for watching!



My favourite cosplay photo taken during Saiyacon weekend, all the evil Saiyans (and Gohan) beating up Goku for being a bad father
---