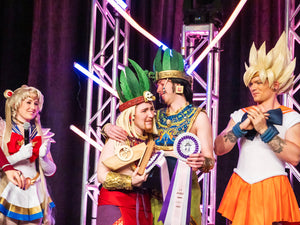 Breaking Into International Cosplay: Autumn & Connor's Story
This Is Autumn and Connor
Autumn & Connor are a couple who cosplay together and had aspirations to compete on the international cosplay stage. Similar to me and Nomes, they combine their work-load by putting a focus on what they each specialise in.⠀
They had competed in and won many local contests and they placed third last year at the Clara Cows Cosplay Cup (C4) Canadian Qualifier at Otafest and got feedback on their costumes and performance from the judges.
This year they placed 1st.
Now they're heading to the C4 finals at AnimeCon in the Netherlands for the opportunity to win an all expenses paid trip to Japan!

 Up until the moment they were announced they didn't think they had got it, they didn't think they had even placed!
⠀
To me this hits home that:
-A competitive cosplay duo needs to distribute their work load properly. If you're good at sewing, do all the sewing. If you're good at choreography, do all the choreography.-To be an international cosplayer on the competitive scene you have to invest a large amount of time. Outliers do exist but for the most part people either need to practice making or practice performing before they get anywhere.-You need mentorship or guidance to help streamline the process be them good cosplay judges or quality online tutorials and videos.-You should never doubt yourself because you have no idea what your upper limits are
Congratulations again to
Autumns Cosplay
 and 
Cnr Cosplay
, it was a pleasure to meet and judge you guys at Otafest and hopefully me and Nomes will see you again at Animecon for your finals performance! (whenever that will be, maybe 2021? 2022 lol? Corona dependent!)
Keep practicing, keep learning, keep going, Be More Shonen!
---