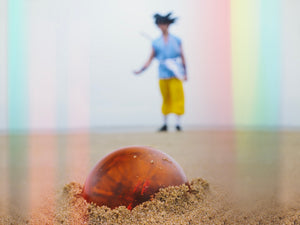 Cosplay: My Call To Adventure
One of the best things cosplay has ever brought me is adventure. I had always wanted to travel abroad to new places but I never really did until I met Nomes and started going to conventions around the world.

The example in the attached photo is our trip to Animecon 2016 in the Netherlands, after the con was over we went exploring a local beach to get some photos and enjoy the scenery. A foreign convention is a good excuse to start travelling and a very good anchor because you're going to be surrounded by people who like the same things as you (just like any other con!) and then you can start exploring the local environment together.
Cosplay: Goku (DragonBall GT) Photo: Anna S (Taken at Animecon 2016)


You might even find a Dragon Ball there ;) and if you're like me and adventuring is all you've wished for, you won't even need it. 

Cosplay has taken me to so many different countries. In fact, most of the countries I've travelled to have been for cosplay or convention purposes. Be it as a regular attendee, a guest, or a contest entrant I have travelled from the UK to America, The Netherlands, Belgium, Romania, Bulgaria, and Japan. Could I have gone to these countries without cosplay? Sure, but then I wouldn't have met so many awesome like minded people in the process!



Cosplay: Goku (Dragon Ball) wearing the Jump x New Era cross over gear in the streets of Tokyo for World Cosplay Summit
---