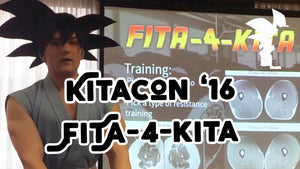 Fita-4-Kita 2016 Panel extracts

The first ever panel I hosted was 2014's Kitacon Fita-4-Kita panel alongside Leon Chiro and co-chair Iain. The panel is based on a facebook group of the same name created by co-chair Phil and the group is still somewhat active to this day (feel free to join!). I ran this panel every year up until 2017 where I handed it over due to me feeling burned out at the time and the one year I didn't host it the panel won the 'best panel' award which was a funny turn of events.

Being in the Kitacon con-book so many years in a row for my involvement in the fitness side of the event helped give me a voice and spread my story in the convention community and I'm ever grateful for the community giving me that opportunity. I love Kitacon, and I can't wait for it's return in the future.
---