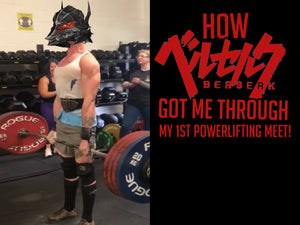 How Berserk Got Me Through My 1st Powerlifting Meet
If you would rather watch than read:
It's been my goal since I started Be More Shonen to become the worlds strongest cosplayer. To that end, my personal approach to training has always been one of powerlifting and bodybuilding. A powerbuilding approach, if you will. After almost ten years of training with a barbell, I figured it was about time I did a meet.

But I've also always been cursed with chronic back pain that I constantly have to keep in check with my training, diet, and lifestyle. Because one day I can be fine, the next day I have to spend it in bed.

Unfortunately, two weeks out from my meet I pulled something in my back. I wasn't doing anything ridiculous, it was just unfortunate timing. But now I was crippled. I felt like there wasn't any way I could get to the platform and that I might have to dip out of the meet.

But with some encouragement from my girlfriend and a night of reading Berserk, I decided that it wasn't in me to quit just yet.

The main character Guts wears something called the Berserker armour, it drives out all of his primal dark urges and allows him to activate the 'Berserk mode'; a real life mind-state where your fight or flight response goes into overdrive and you can achieve things you couldn't possibly do without it.  As a consequence, it destroys your body. But the armour props up the body whilst it's being used, basically making the person invincible and super-human whilst they're using it.

I took that mindset going forward whilst also doing everything in my power to heal before the event. Stability work, mobility work, an anti-inflammatory diet, appropriate supplementation, anything that I knew I could do that would work, I did it.

And on meet day although I didn't put up any personal bests I did way more than I planned to just coming off an injury, I got my first meet under my belt, I didn't re-injure myself, and I placed second with only one point each between 3rd, 2nd, and 1st.

My squat was 180kg, my bench was 130kg, and deadlift was 220kg. Roughly 10% less than my all time bests, not bad for being crippled the week before! 

After going through all that and seeing how strong everyone else was at the meet, I feel so much stronger. Like new potential has been awakened inside me, like I haven't even scratched the surface of what I'm capable of. You're always capable of more than you think when you dedicate your whole mind to it

Over the past 5 years I allowed my chronic pain to make me feel weak. But in reality, we all have a Berserker mode. We all have hidden potential inside of ourselves that is our duty to control.

This meet was a good start, on towards the future 💪
Be More Shonen

If this article resonated with you consider working with me to hit your fitness goals. I provide affordable online coaching that actually brings results and has anime fans in mind 💪 Click here to enrol! 
---