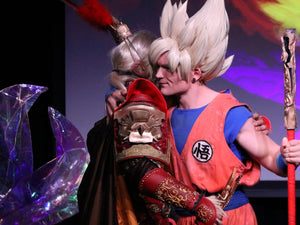 How To Win Cosplay Competitions: Be Like Danny
In the attached photo you will see Danny

Danny came 1st at the 2019 CosXpo cosplay contest after showcasing his brilliant Sun Wukong costume & performance.


Danny almost didn't enter because he didn't think he was good enough, he
 cried on stage out of happiness & disbelief after we awarded him his prize and even now he's still in disbelief he won now.


Through my time judging cosplay contests I always see people on the con floor who 100% have the potential to win but won't compete out of fear.


Be like Danny, be the one that tries at things regardless of the outcome, be the one that takes shots, be the one that believes that they at least have a chance.


Every year in the UK there are dozens of teams that want to compete for the grand cosplay contests like C4, WCS, and ECG. When it's time to perform, only around 4 teams on average make it to the stage. They usually get inside their own head and talk themselves out of it, telling themselves that they aren't ready. Hell, me and Nomes have both been close to dropping out of contests that we ended up winning because we almost talked ourselves out of it.

At the end of the day the ones that win cosplay contests are the ones that show up. Be like Danny and just take your shot!


Be More Shonen
Cosplays: Sun Wukong (Journey To The West) and Son Goku (Dragon Ball Z) Photo: MangaGirl Photography (taken at Cosxpo 2019)
---