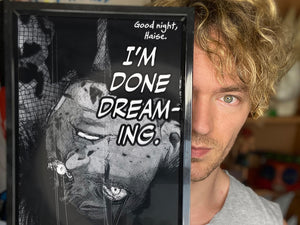 I'M DONE DREAMING - The Manga Panel That Changed My Life
Tokyo Ghoul Re Spoilers ahead
Recently I read through the entirety of the Tokyo Ghoul manga going in blind and this single panel has changed my perspective completely


It's the moment where Kaneki is done running away from who he is and accepts his responsibilities as a ghoul and his duties a human. He throws away his safe, simple life of Sasaki Haise for something much deeper, meaningful, and terrifying in the life of Kaneki Ken. This feeds in to the recurring theme of the story: death, rebirth, and having the strength to face all the suffering that life throws at us as we transform to meet each challenge.
Up until reading this I honestly thought I was applying myself pretty thoroughly. I felt like I had been chasing my dreams with a decent amount of effort. After all, that is in fact what this personal brand is all about. 
But after seeing this panel I quickly learned that dreaming wasn't enough. 
I have to strive harder, train harder, and work harder alongside a tighter focus. The panel was so impactful to me that I printed it off and literally put it over my degree in a photo frame so I can constantly look at it whilst I work. 
Dreaming is not enough. A dream is a fantasy, a goal is met or failed. 
I'm done with dreaming




"Get busy with life's purpose. Toss aside empty hopes, get active in your own rescue - if you care for yourself at all - and do it while you can" - Marcus Aurelius

Be more shonen
---