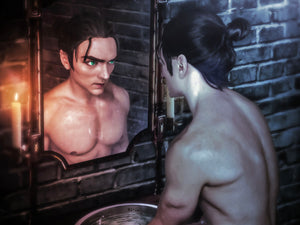 KNOWING WHAT YOU WANT: Lessons From Hajime Isayama and Eren Yeager
Hajime Isayama had grown up reading Shonen Jump. He had dreams of becoming a Mangaka & taking his self-described 'amateurish' art to the big time.
His first manga 'Humanity VS Giants' was submitted to the publisher when he was 19. It was a gory gritty story centred around shape shifting giants who had pushed humanity to near extinction. Not exactly what you would expect to be published alongside Naruto.
After a bit of a back & forth with the company, who seemed to see potential from young Hajime, it looked like he had a shot at his dream job if:
-He adapted the story to something more 'Shonen Jump'
-He cleaned up his artwork & had it reflect a Jump Style
-He was willing to work long hours to put out a weekly series
& he declined so the story was rejected. Wtf?
Although Isayama strived to improve his art he didn't want to compromise his vision by making it more Jump friendly, nor was he willing to give his life away to draw a weekly manga (referring to those that do as 'Super Human!'). He knew that his dreams of being published by Shonen Jump was not meant to be.
Isayama then took his manga to Kodansha who accepted his story & his terms of employment, he would be published in their monthly Bessatsu Shonen Magazine. At the time Isayama wondered if it was a mistake. Kodansha were seriously in the red & he considered that his story could be a casualty if the company went under.
Instead it turns out that he was Kodansha's saviour. His manga become an international mega hit & sold 100 million copies thanks to it's anime adaptation. Isayama was now a star & he lifted Kodansha into profitability for the first time in 18 years.
That story became Attack On Titan, a series often regarded as one of the best manga's ever written.
The lesson here is that you've got to know yourself & what you want in life. If an opportunity comes your way which doesn't align with who you are you don't have to take it. In fact, not taking it might be the best thing that could have ever happened to you.
Though I gotta admit seeing a more 'Shonen Jump' Eren Yeager would have certainly been interesting 😂
Be More Shonen
Cosplay: Eren Yeager (Attack On Titan: The Final Season) 
---