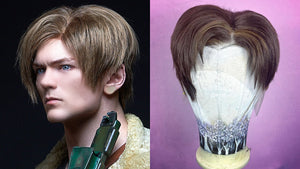 LEON KENNEDY WIG TUTORIAL - RESIDENT EVIL 4 REMAKE COSPLAY
This is by no means the only way to style a Leon wig but this is how I did it and I hope it's useful!
It's a short haircut with an undercut and side parted curtains on a lace-front wig 💪
In the name of transparency, the wigs in the thumbnail are both two different Leon wigs I've styled! This is actually a re-post from my old channel when I was just Nomes Cosplay!
View the tutorial here:
Products used in this video: (Affiliate links)
Canvas wig head (includes, clamp stand and T-pins!):
https://amzn.to/2Yjqk0q
A canvas wig head is a great investment. It will stand up to many many styling projects and, unlike polysytrene heads, is actually representative of a human head size!
Teasing brush:
https://amzn.to/3uD6r01
Cheap, versatile, long lasting and easy to wash!
Hair cutting scissors:
https://amzn.to/3A924Lk
These are the self same scissors I've been using for the last few years. They cut well but I was also drawn to the pretty rainbow colours
Got2be spiking glue:
https://amzn.to/3a3wzaX
Got2Be hairspray:
https://amzn.to/2WKJknK
The cosplay gods smiled upon us with this hairspray! Fantastic hold. Not all hair products work on synthetic wig hair but the Got2Be products are genius.
Straighteners:
https://amzn.to/3HBjSmW
I literally got mine years ago for £5 from a charity shop but these have a good reputation and are reasonably priced
Garment steamer:
https://amzn.to/3lbfIZO
NB: this is not the same as my steamer but going by reviews it's much more reliable. Mine spits boiling water at me when it's in a mood... Since investing in a steamer for wig styling I've never looked back. Good for straightening, curling, setting and more!
Hair clips:
https://amzn.to/3Hk2xOs
Base wig and wefts: I recommend Imstyle, Wig is fashion, Coscraft and Arda as low risk and reliable lace front base wig suppliers depending upon your location.
Thank you so much for watching!
Please like, share, and follow for more cosplay tutorials, tips, and ideas!
---