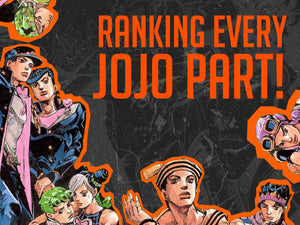 RANKING EVERY PART OF JOJO'S BIZARRE ADVENTURE
I always struggle to rank the parts of this series, I love them all for different reasons. To me they're all 10s.

So I compiled the rankings from My Anime List (MAL is the gospel of anime rankings, trust me bro) and used them as a bit more of an objective base to sort out my own ranking.

Let me know in the comments what your personal part ranking is 👊

Check out the video discussing the ranking here:


Check out the Dio Vs Star Platinum 'God-Crusher' design mentioned in the video here. Most cathartic skull smash of all time.
#BEMORESHONEN
Cosplay: Jotaro Kujo (Stone Ocean)
Series: Jojo's Bizarre Adventure
---