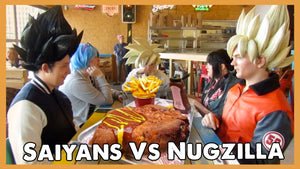 SHONEN SCRAN: Saiyans Try To Eat Giant Nugget (Dragon Ball Z Cosplay Eating Video 2018)
Rubs Smokehouse goes anime today. 
On this episode of Scranny Ball Z, two Saiyans go into the ring with Andy Salibury; the world record speed eater for the Nugzilla from Rubs Smokehouse. Travelling to Birmingham in cosplay, Son Goku, Vegeta, Chi Chi, Bulma, and Gohan all go on this epic adventure for an epic cheat meal. Will Chris Minney (Goku) and Saiyan Prince Cosplay (Vegeta) succeed in their quest? Or will uncle Andy destroy them with his Hex vision? Find out today on Scranny Ball Z. 
Spoilers: Honestly, the Nugzilla was such a challenge. I genuinely thought I'd be able to do it given my track record, I was getting tagged left right and centre being told it was easy money. Andy Salisbury IS Jiren the Grey when it comes to speed eating. The thing that blows my mind is that he isn't even a competitive eater, he's just some random guy who was really really hungry. The idea that he beat the real life saiyans themselves is quite...well...remarkable! It really does show that a lot of peoples talents (no matter how ridiculous) never get discovered and that with more participation in any sport we'd be seeing a lot more world records being broken. 
Rubs Smokehouse Birmingham were brilliant, they allowed us to film during our meal and were very supportive of us. We felt very welcome and the food ultimately tasted extremely good. They've carved themselves a fantastic niche for utterly epic food and I'd recommend them to anybody in the area.
So...do I plan to do this again? Since the video has been recorded it turns out that the prize money of £500 has actually been increased to £600 and the deadline for entries has been extended by a month. I think, not unlike the recent battles in Dragon Ball Super's tournament of power arc, even if I went Ultra Instinct and brought my A-game to the smokehouse I don't think I'd be a match for Jiren the Grey. However, I think that now I know what I'm expecting I could at least finish it within 10 minutes and get the food for free. There was a few things holding me back last time,  first time speed eating in front of that many people, a bit nervous because I wanted the money (in vouchers), those nerves encouraged by the fact I was filming and in cosplay etc. All these things considered, I think next time I should be able to do a lot better (if it happens!)
A word of advice for those that want to tackle the Nugzilla; for us they allowed a cooling period because the Nugzilla is really really REALLY hot when they first serve it. Take full advantage of this, because when Vegeta went to eat his it actually burnt the roof of his mouth and I found it so unbearable I poured water on my Nugget to try and help cool it down (which you can see in the video). They also allowed us to cut it up before the timer started, which we didn't take full advantage of and it didn't take me long to realise the mistake I had made when I was ripping the pieces up whilst chewing others, this could of been made far far easier if we had cut the pieces up beforehand as much as possible, it was a blessing that we didn't utilise due to over-confidence (being a world record nugget eater went to my head, as ridiculous as that sounds).
On that topic actually, don't think of it as a nugget like the name implies. It's better to think of it as a battered giant reformed chicken breast burger. The nugzilla is so thick with meat that it doesn't really fry like a nugget, so if you are good at speed eating chicken nuggets don't expect there to be a direct correlation here.
Cosplay: Goku (Chris Minney) and Vegeta (Saiyan Prince Cosplay) From DragonBall Z
---