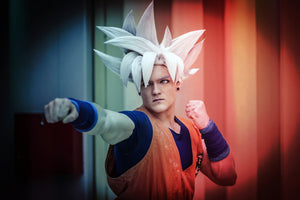 THE ANIME WAY OF SETTING YOUR NEW YEARS GOALS
How are your New Years goals?

Research suggests that it takes about 32 days or less for the average person to break their New Years resolutions. 

If you're still getting after them you deserve a big round of applause. That's amazing!

So for those of you that have abandoned your New Years goals, here's some advice


START SMALL


Goku didn't go from fighting boss rabbit to fighting Freeza within a day

Commit to just getting a little bit better at something each day be it a workout, a language, or starting a business
Sounds a bit too ordinary? It is!


The real trick is that everyone extraordinary had to do the ordinary things in life over and over again to become extraordinary. Going to the gym is ordinary, sparring is ordinary, doing your cardio is ordinary etc.


But the compound effect of these habits over time make world record holders. It just takes time.


You can totally transform yourself over the course of a year. But you've got to do it in a sustainable way, something small that you can commit to each day that ensures progress in the long term.


Now grab my fucking book by subscribing here 💪 

#bemoreshonen 
---
2 comments