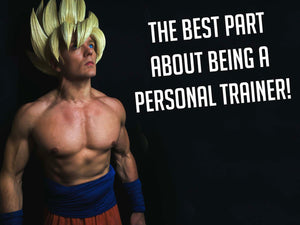 THE BEST PART ABOUT BEING A PERSONAL TRAINER
If you would rather watch than read:
The best part about being a personal trainer for me is just sharing everybody's little victories along the way and seeing them add up into big victories over time.
Everyone has their own anime training arc
I have one female client who has just deadlifted 75kgx12One of my male clients has nearly lost a stone since starting with me using nothing but home workouts and has increased his push up strength from 4 to 50 in a single setAnother one of my clients has overcome an injury to return stronger than he's ever been
And those huge victories make me so proud, so proud that I had a part to play in that transformation.
It's the most rewarding job in the world!
Since I was a child, at my core, I've always wanted to help people and leave everyone better off than when I found them. Through personal training, anime, and cosplay, I've finally found a way to do that and I couldn't feel more blessed 🙏 
If you would like to be stronger, leaner, and more confident
get coached by me by following this link here
#BEMORESHONEN
---