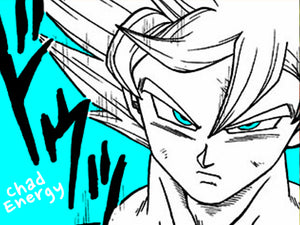 Thousand's of angry incels don't understand Goku | BE MORE SHONEN: DragonBall Super 65 Manga Review
In today's episode of Be More Shonen we take a deep dive into Goku's chad philosophy of being strong enough to overcome anything from betrayal to exploding planets, why it works, and how to apply it to your own life. This episode contains full on spoilers for Dragon Ball Super Chapter 65, you've been warned!

You can watch here:
When I call people incels it's firmly tongue in cheek, if somebody doesn't like something who am I to tell them they're wrong? I'm specifically referring to the edgy attitude of those 'critics' who seem to want Goku to be a merciless killer. I think they are fundamentally misunderstanding who Goku is and why his character is so unique even now in modern day shonen. I think Goku Vs Moro has been an excellent fight in DBS with a ton of progression for both Goku and Vegeta.
I hope you enjoy the video!
Cosplay: Mastered Ultra Instinct Goku (Dragon Ball Super) Photo: Keanu Berkeley
---