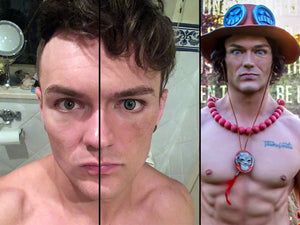 Why Men Should Use Makeup For Cosplay
I think it's a shame more men don't wear makeup in cosplay land. It can really help to reshape your face and add features of a character to your mug, alongside generally helping you look fresher.

This photo was taken after I cosplayed Ace from One Piece. I took a makeup wipe to one side of my face and took a contact lens out, the line has been added to highlight the difference it can make.




Some of the differences:

-Bigger eyes (eyeliner, shadows, contact lenses)
-Eye bag reduction (highlighter)
-Addition of freckles (face paint)
-Nose shaping (contour/highlight)
-Wider smile (eyeliner)
-Brighter complexion (foundation, blusher, contour)
-Matte skin finish (powder, setting spray)

I'd consider this just a little bit beyond basic makeup. Nothing that's too otherworldly or unnatural. Though there's some absolutely mind blowing artists out there who show that you can basically take this process as far as you want for cosplay transformation purposes. 
⠀
Now, this article was inspired by the fact that a bunch of strangers believe that I'm gay based solely on the fact I wear makeup for cosplay (and a little bit in real life). There's still a bit of a stigma when it comes to men wearing makeup which is maddening to me because:

1) There's nothing wrong with looking pretty

2) There's nothing wrong with being gay (like, obviously!)

3) Every celebrity you've ever admired wears makeup (at least occasionally)

4) More and more men in the mainstream are more blatant with their makeup use and they have been for years, especially in the rock and metal scenes
At least in this context, makeup just makes you look prettier (with the right techniques!) and it can really bring a cosplay to life, especially anime cosplays. Watch some basic tutorials, buy some half way decent products, and have at it!

Be More Shonen
Cosplay: Firefist Ace (One Piece) Photo: Me & Nomes Cosplay!
---