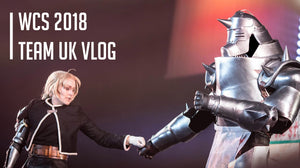 What's the World Cosplay Summit In Japan Like? WCS Team UK 2018 Vlog & Competitor Review
Well holy Popo guys we actually did it. Here's our experience condensed into a short film called 'World Cosplay Summit 2018 But Its Ten Minutes'


After coming 2nd place for the World Cosplay Summit Qualifier in 2016 and taking a break to juggle ideas, in 2018 me and Nomes quite literally got our act together and nailed it in what was one of the happiest moments of our lives. I'd been going to MCM London conventions for ten years at this point and never dreamed that a decade later I'd be repping the UK in Japan just a few months later as the Uk's first male representative at the World Cosplay Summit. Alongside the love of my life no less!


So what's the World Cosplay Summit? It's arguably the most prestigious cosplay contest alongside C4, CICAF, and ECG with all of these contests basically choosing a representative team from each country over the world to compete together in one final cosplay showdown to the death and one of the many things that makes WCS special is that it's held in Japan of all places, they pay for your flight, accommodation, and a good majority of your food whilst you're there. That's the weeaboo dream my friends. 

Once you qualify you pick a selection of outfits for each day you're there where you do various promotional activities for the World Cosplay Summit brand. You need at least 3 extra outfits besides your finals costumes, and you have until a month before you fly to either improve your performance or scrap it completely to start a fresh. We decided to further push our already existing act as we didn't have all that much time after qualifying before we flew out (two months!)


Flash forward to our performance: some people have asked us about why the pole trick was different from our qualifier. Well, it's because it actually activated by accident and shot out of Nomes' pocket. Thankfully with some quick thinking she altered her actions slightly so it didn't interfere with the performance all that much.


Every country put on a great show, a member of team Kuwait even competed with a broken freakin' leg. But Team Mexico cleaned up shop by achieving a thousand prizes. Team Indonesia was awarded 2nd place, Thailand 3rd place, and Denmark snagged the brother award, but I'm convinced that was only because team Mexico couldn't physically carry any more trophies.

Something I noticed during this show was that almost every performance, including ours, took something from the previous years winner. You could actually do some kind of plagiarism bingo be it a moon background, streamers for blood, a breakable wall, or man vs monster.
There was plenty of this in 2018


Obviously this isn't a diss track or anything because we were guilty of having a breakable wall ourselves but I do find it interesting how humans generally think in such a similar way when it comes to taking what's proven to work and then trying to re-invent it in a new and exciting way.

Something pretty cool, the live broadcast vote for Nico Nico put us at 4th place. This isn't really a big indicator of our final score but it was nice to know that so many people had voted for us, especially considering coming 4th on the Nico board is a first for the UK.

So we gave it our all, World Cosplay Summit was an amazing experience and to be honest I'd love to go back. They do an Alumni program where previous qualifiers can go to future events at a discounted rate which is pretty cool. But I'd actually love to go back as a competitor with my Nomes. That is if she can put up with me being her partner for a third time.
When I was in Japan, I bought a Goku Ultra Instinct figure and it's since gained new relevance as a crazy metaphor for how we did at the World Cosplay Summit. During the tournament of power where Goku debuts this form, Goku becomes the best version of himself to date which is called 'ultra instinct'. Yet this form and it's power is still not enough to win the tournament so after it's over, Goku goes off with his training partner Vegeta to get even stronger. His fate is ambiguous and it's not yet written in the story wether or not he'll win his next tournament but that's not why he's doing it. He's doing it to push himself and to get stronger, which is exactly what me and Nomes want to do by entering our next contest as Goku and Freeza to pay homage to the series that brought us together in the first place. And that's now what this figure represents to me. 


When you face yourself and win, you never lose
So that's the story of our 2018 WCS journey guys. As you can see it was pretty crazy, the idea that dressing up as a Japanese cartoon character could ever be this prestigious is still quite mind blowing to me but I can't deny it's pretty amazing. Go all in on your passions guys, you honestly never know where it may lead you. 

If you wish to watch our performance you can do so here:


Cosplay: Edward Elric (Nomes Cosplay) and Alphonse Elric (Chris Minney) from Fullmetal Alchemist. Photographer: Dr.Cosplay (At World Cosplay Summit 2018)
---