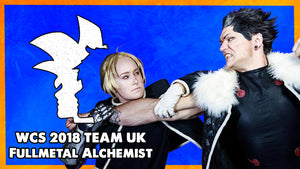 FullMetal Alchemist - Ed Vs Greed | World Cosplay Summit WCS 2018 Team UK
World Cosplay Summit 2018 was such an amazing experience, this was our performance at the finals.



We are incredibly proud of what we did, the NicoNico live comments/results were extremely favourable but also hilarious, many Arnie references were thrown at my interpretation of Greed ('Al has been terminated' was my fave!) and many could spot the WWE influences in the performance.

My Nomes is so talented, her work on these costumes still impresses me even now. I couldn't of asked for a better partner, and I can't wait to do this again with her. I'm excited to see what the next potential team UK's have in store this October when we judge at MCM London!

Cosplay: Edward Elric (Nomes Cosplay) and Greed (Chris Minney) from Fullmetal Alchemist. Photo: Hikari Corner (Taken at Anifest 2018 in Bulgaria)
---