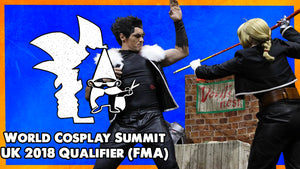 World Cosplay Summit (WCS) UK 2018 Qualifier: FullMetal Alchemist FMA Cosplay Skit
Mine and Nomes' MCM Expo masquerade skit for the UK qualifiers of World Cosplay Summit. We came first, and two months after it's time to head to Japan.
So many hours went into these 2.5 minutes it's almost laughable. The skit alone took over 100 hours of practical work, never mind the costumes themselves (probably double that).  
However it was definitely worth it in the end, the support for our win has been overwhelmingly positive and I'm very happy we could put on a good show for you guys. I'm also the first dude to ever represent the UK at World Cosplay Summit, for what that's worth.
One of the happiest moments of my life cosplaying two of my favourite characters from one of the best anime of all time and with my favourite person, what an absolute experience it has been so far. 

Onwards to the World Cosplay Summit!
Cosplay: Edward Elric (Nomes Cosplay) and Greed (Chris Minney) From FullMetal Alchemist
---